RaceTAB Live
RaceTAB Live for Race TAB Fields, Scratchings, Prices and Results
Race TAB Live is a module within our Bet Selector software that allows access to RaceTAB (NSW), Vic TAB and Tattsbet Live Odds data feeds for the purpose of automatically updating race TAB odds, scratchings, jockey updates, TAB pre-race approximate dividends and results for each race.
RaceTAB Live is most frequently used on race day morning to automatically update race TAB scratchings in the Bet Selector software. Then on race day evenings RaceTAB Live is used to automatically update TAB race results. Race TAB Live can also be used on a race to race basis to help you decide which horses to bet as described below.
Note: Race TAB Live only collects the necessary data when you request it (viz after you click a button telling it to do so) and does not collect or record TAB fluctuations or allow you to compare one TAB against another.
Bet Selector's Race TAB Live module lets you view the software's 3 sets of rated prices alongside TAB prices so you can get a feel for which runners are at value prices. If you download race form from www.bestform.com.au then you can also make comparisons against the early market prices (like in the daily newspapers) in RaceTAB Live. We will explain how this works in conjunction with the screen shot below.
Race TAB Live Screen Shot
To get started you simply select the desired TAB via the radio buttons in the top left hand corner and then click the "Get Latest TAB Data" button. Then as the following screen shot shows you get all the days meetings listed in the bottom left hand list box and all races in the top list box. By simply clicking a meeting in the left hand list box, the top list box is positioned at the first race for that meeting and you can then click on a race to get race details in the larger lower list box (if results are in for the race in question then they will appear on the far right).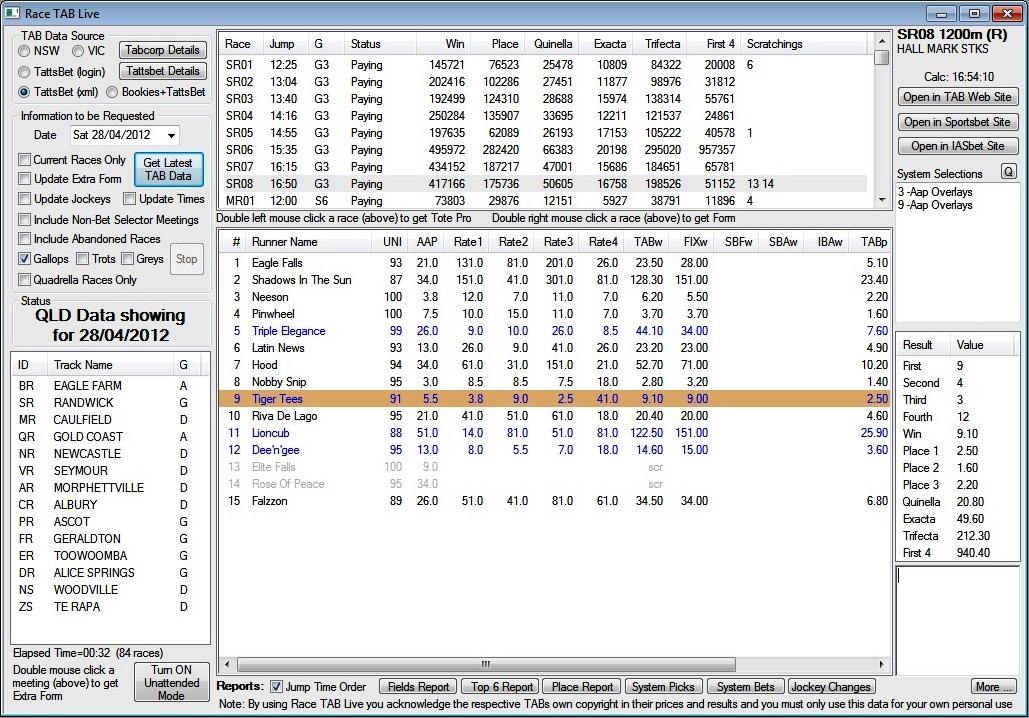 Looking at the above Race TAB Live screen shot you will see Bet Selector's normal rated price, Better Ratings rated prices and Plus Ratings rated prices in columns Rate1, Rate2 and Rate3 respectively. As you can see, the $9 winner Tiger Tees was highly rated by our normal ratings and Plus Ratings (with the lowest rated prices of $3.8 and $2.5 respectively). The AAP column shows the early market ($5.5 for Tiger Tees) which is often also a good guide as it is amazing how often a horse is short in the early market but wins at longer odds. In the above example you will note the first three horses came from the 4 shortest priced horses in the AAP market.
Also in the above screen shot you will see the 100 point ratings from the Tattsbet web site in the UNI column. In this example they didn't get the winner but both second and third placed horses were rated on top at 100 points (note these ratings are converted into a rated price in column Rate4).
Another feature of this Race TAB Live module is that you can double left mouse click a race in the top list box to bring up our Tote Pro module for placing bets.
Bet Selector's RaceTAB Live module gives you the option of accessing Tattsbet's UNiTAB Race TAB info, Tabcorp VIC TAB info or Tabcorp NSW TAB info as outlined below.
Race TAB Live Data Feeds
Race TAB Odds via Tattsbet (Unitab) XML
RaceTAB Live gives you real time access to Tattsbet's UNiTAB Race TAB info via their new XML Odds feed (previously unitab.com.au). This is the most popular feed for Race TAB Live because it is free and requires no account login. You don't need to understand how it works to use Race TAB Live but if you want to use it for your own software programs you can find more information on it at:
http://tatts.com/tattsbet_help/info/xml-feed
NSW RaceTAB and VIC Live Odds via Rapidbet
Bet Selector's Race TAB Live module also gives you real time access to Tabcorp's RaceTAB and VIC TAB Live Odds but this requires registration and login using your TAB account number and password. This used to be done by RaceTAB's Live Odds Services but is now done by their new Rapidbet web services. Details on how to register for their Rapidbet web services can be found via the following link but please note access is only available to TAB Account holders with an account status tier of Silver or above:
http://tab.custhelp.com/app/answers/detail/a_id/431
Note: Familiarity with the above Race TAB services is only necessary if you wish to do your own software programming around the live data feeds.