System Selector and MyCalc
System Selector for Picking System Selections
System Selector is the horse racing system software part of Bet Selector. Originally introduced in November 1994, System Selector helps you take advantage of the computer to apply horse racing systems. You are probably familiar with form based systems for selecting winners. Usually a system has one or two main rules that do most of the work and/or create the theme for the system. For example my Last Start Winner system works on horses that won their last start and my Same Distance Longshot system requires horses to be racing over the same distance as their last start and to have won their second last start - both these systems can be found in our free eBook of 189 systems, downloading instructions for which will be sent to you by return email if you send an email to demo@capitalinfo.com.au with the word free in the subject line.
You can apply systems manually if you have the time to go through a form guide like the Sportsman or Winning Post and check all the rules. Try it and you'll realise it is time consuming - especially when you have to calculate days to past runs like in the abovementioned systems. And it gets even more complicated if you have rules requiring you to calculate things like distance rises and drops and average prizemoney rankings. This is where the System Selector horse racing system software part of Bet Selector helps as you can enter and save rules for one or more systems in it and then after just a couple mouse clicks System Selector tells you which horses meet the rules!
Note: System Selector is not available in our demo program but is included in the Gold version which is free (normally $450) if you take out a $55 a month form download subscription at www.bestform.com.au -once you have these it is really just a matter of (a) clicking a few buttons to download the form for tomorrow or the next day and (b) clicking a few more buttons in the System Selector part of the program to select your systems and list the horses that meet their rules.
Note also that rules only need to be entered into System Selector once as they will be remembered by System Selector for subsequent use (and you don't need to key in our free 189 systems as they can be downloaded into the program automatically). Furthermore you can even test systems over past meetings and see how they performed (thanks to a free download of past TAB results).
System Selector Rules Screen Shot
Our System Selector horse racing system software works by allowing you to set maximum and minimum bounds to a variety of parameters. Parameters are initially set to select as many horses as possible but by simply restricting the upper and lower bounds, a smaller sample of horses is selected. Various Yes/No criteria are also available in System Selector. A screen shot showing all the System Selector rules can be seen below and detailed descriptions of the rules can be found in the System Selector part of our online Help File.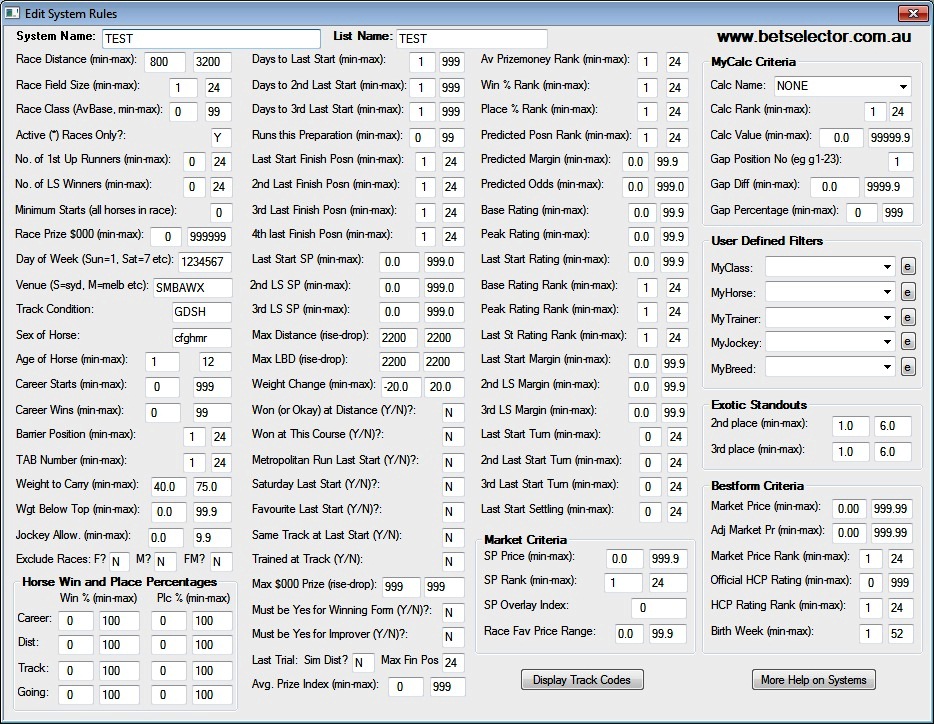 MyCalc
Bet Selector's MyCalc module is used to create user defined formulae for use in Bet Selector's System Selector module - in particular formulae using calculations and/or data not available from the System Selector rules list. Most commonly it is used to insert one form based item and then use it in System Selector for display and elimination purposes. Basically anything you insert in MyCalc produces a numeric answer that can be displayed in System Selector for each horse and used (in conjunction with the equals, less than or greater than drop downs on the System Selector "Test" dialogue) to eliminate/include specific horses.