How to get 10% or more above Best Tote TAB Results
Bet Selector's top rated class horses perform close to breakeven in metrops and we will show in the next section below how you can turn this into a profit. Profits are even better if you bet Best Tote TAB results and even better again if you bet at Betfair Starting Price (BSP) which is over 10% above Best Tote TAB results.
Todays results: To view Best Tote TAB results and BSP results click the following link:
Click Here for Todays BSP and Best Tote TAB results
Past results: For previous days results, click the above link and then use the top right hand date selector to view Best Tote TAB results and Betfair BSP results.
Note: Best Tote refers to the best TAB result from the 3 Australian TABs viz Super TAB, NSW TAB and UTAB. Super TAB (STAB) includes VIC TAB, ACT TAB and WA TAB (now called TABtouch and previously TABozbet). UTAB includes QLD, SA, TAS, NT (previously know as Ubet, Tattsbet and UNITAB).
How to profit from Best Tote TAB Results or BSP
Getting the best price whether it be Best Tote TAB Results or Betfair's Starting Price is great - but only if you have good selections to back. Following are some steps on how to pick good contenders using Bet Selector.
Use good ratings: If using Bet Selector Pro 2 the best picks are the top main rated class horses and if using Pro 3 the best picks are the top main rated weight horses.
Pick the best type of meetings: The ratings perform best on Saturday metropolitan meetings so consider these before looking at provincial or country meetings or other days of the week.
Pick the best locations: The ratings perform best in Sydney, Melbourne and Brisbane so best to concentrate on these tracks rather than Adelaide or Perth.
Pick the best conditions: The ratings work best on Good tracks so best to concentrate on these rather than soft or heavy tracks.
Pick the best races: The best results will be achieved if you ignore 2yo races and races longer than 1600m. Also ignore races with less than 7 starters.
The above strategy made 9.5% profit from January 2022 to end September 2023 based on fixed starting prices but on best tote TAB Results the profits were 12.5% and using Betfair Starting Price (BSP) the profits were 24.1% (even after commissions, BSP was still the best option at 16.6%). Note you can sign up to Betfair via the banner at the top of this page or via their Join Now page.
Given that Betfair Starting Price (BSP) is more than 10% better than best tote TAB Results, it should come as no surprise that existing clients have been asking for ways to automatically bet Bet Selector selections via a bot to Betfair. From mid 2023 this is now possible as the System Selector part of Bet Selector (used to run strategies like the one above) now creates csv data files of selections for use with BFBotmanager.
For more details on how to set up the above strategy in Bet Selector, send an email with your first name in the subject line to demo@capitalinfo.com.au
For more details on BFBotmanager and a free trial click the banner below: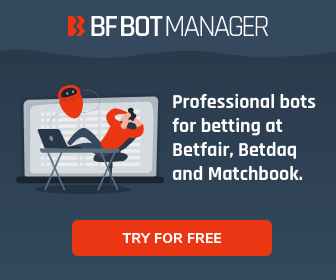 TAB Result Usage in Bet Selector
TAB results, prices and scratchings are available at the click of a button in Bet Selector's Race Day Live module - it collects and displays data for all gallops meetings on a given day and is used to get scratchings and track conditions in the morning, updates during the day and final results at the end of the day. The main purpose of this module is not just to display information against the program's race fields but also to allow system testing strategies against win, place and exotic TAB results.
Bet Selector also has a special option off its pull down FILE menu to download TAB results back to 1.1.2020 so you can test system strategies back to that date against win, place and exotic TAB results.
Note: To avoid breaching copyright, you can only access TAB results and other data in Bet Selector if you already have our form downloads for the day. These downloads cover horse racing meeting in Australia, New Zealand, Hong Kong and Singapore so data will only be collected for these meetings and not for other international horse race meetings or for other racing codes like trots or greyhounds. Also it is a condition of use that race fields and form are for your personal use only as they are reproduced under a copyright licence from the copyright owners. Any unauthorised reproduction, adaptation or communication is strictly prohibited. More info can be found on our Form Import page.
TAB Result Sites and Data Feeds
More details can be found at NSW Race Results for NSW TAB data, at VIC Race Results for VIC TAB data (pooled with ACT TAB and WA TAB) and at QLD Race Results for QLD, SA, NT and TAS TAB data.
Bet Selector includes Australian horse racing TAB results back to 1 January 1999 for private non-commercial use - you can get your copy now by sending an email with your first name in the subject line to demo@capitalinfo.com.au