Betting and Punting eBooks
If you are new to betting then below are the two of the more popular third party punting and betting eBooks we have ever recommended. Both are very economically priced so please check them out now.
How to Place Bet on Favourites eBook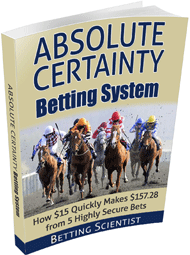 Discover the secrets to turning $15 very safely into $157.28 by putting 5 highly secure place bets on favourites.
"I made $6,854 from $17 - and now everyone (including my boss) is begging me to reveal my secret! Please hide your website!"
- Comrie Graham, Sydney.
The author has used this system to make consistent profits since 1992. Everyone knows that favorites have a high chance of winning and placing but what this method does is select only certain types of favorites that have an extremely high chance of winning and placing.
Note: The comments referred to above have been sourced from the vendors web site (which can be referred to via the above link for more information).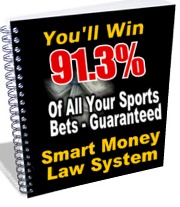 Follow the Smart Money and win 9 times out of 10
This sports betting system is ideal as an AFL betting system and takes just 70 seconds to apply. It exploits a proven statistical winning trend to ensure a 90% plus win rate.
Check out the Smart Money web site below and you'll find out just how happy their clients are including Vicki Cao from Cairns QLD who says
"I'm thrilled to say it shows incredible returns. I've made $622.65 using small $15 bets"
More Horse Racing eBooks and Systems
If you are interested in systems specifically designed for Bet Selector then we suggest you check out Grandstand Publishing who have been selling Bet Selector systems for nearly two decades. You can check out their web site now at Grandstand
Finally, don't forget our totally free eBook of 189 horse racing systems that can be operated with or without our program. They are available via the instructions below: