Horse Racing Betting and Punting eBooks
If you are new to horse race betting then below are the two most popular third party punting and betting eBooks we have ever recommended. Both are very economically priced (both under $50) so please check them out now.
How to Place Bet on Favourites eBook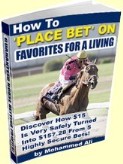 Discover the secrets to turning $15 very safely into $157.28 by putting 5 highly secure place bets on favourites.
"I made $6,854 from $17 - and now everyone (including my boss) is begging me to reveal my secret! Please hide your website!" - Comrie Graham, Sydney.

The author has used this system to make consistent profits since 1992. Everyone knows that favorites have a high chance of winning and placing but what this method does is select only certain types of favorites that have an extremely high chance of winning and placing.

Note: The comments referred to above have been sourced from the vendors web site (which can be referred to via the above link for more information).
Trifecta and First Four Betting eBook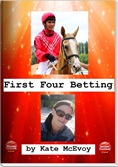 Exotic Betting has always been a bit of a mystery to most people. Now this eBook by Kate McEvoy finally reveals the secret techniques known only to a handful of pro gamblers.
Secrets revealed involve using roving bankers and flexi (fractional) betting are explained in a "Fill in the Blanks" way that makes trifectas and first four betting dead simple. This eBook provides betting systems for both trifectas and first fours and is specifically designed for use on Australian TABs. At just $A27 this has to be one of the best value for money eBooks you will find.

Bet Selector users have given this book the thumbs up - Michael said it was "a good read", Phil said it was "very simple to follow" and Chris said it "cleverly uses the selections to maximise profits".

Note: The comments referred to above have come from Bet Selector clients.
More Horse Racing eBooks and Systems
If you are interested in another eBook on trifecta betting check out International Trifecta Betting. It is also designed for Australian racing and has plenty of low cost/high return trifecta methods.
If you are interested in systems specifically designed for Bet Selector then we suggest you check out the following two vendors that provide systems in data file format for direct import into Bet Selector:
Placegetters. For 5 systems at around $30 each or $129 for the whole lot check out Kel Stuart's Placegetters web site.
Taspunter. For 6 systems at $55 each or $240 for the whole lot check out Kim Buick's Taspunter web site.
Finally, don't forget our totally free eBook of 189 horse racing systems that can be operated with or without our program. They are available via the instructions below: